Police in Arusha have confirmed the arrest of Tundu Lissu, the Vice Chairperson of the opposition party CHADEMA. Lissu was taken into custody this morning at his hotel, where he was preparing for a scheduled public rally in Karatu town.
"We were preparing to hold a rally today here in Karatu, and Lissu was expected to be a speaker. However, in the midst of our preparations, Lissu's hotel was surrounded, and he was arrested along with his bodyguards," reported Samwel Welwel, the CHADEMA Karatu Chairperson.
Other CHADEMA leaders arrested this morning include Catherine Ruge, a former member of parliament and the Secretary-General of the CHADEMA women's wing; Susan Kiwanga, a CHADEMA central committee member; and Twaha Mwaipaya, a youth wing leader.
Digital news outlet Jambo TV also reported that one of their journalist, Oscar Kasubi who was covering Lissu's rallies was also arrested in the morning.
Arusha Police said that they arrested Tundu Lissu and others for participating in an unlawful assembly and obstructing the police from performing their duties.
On September 8, 2023, Lissu held two rallies in Ngorongoro and Loliondo, despite an earlier directive from the Police ordering him to cease all rallies in the area. Police said that CHADEMA did not have a special permit from the Ngorongoro Conservation Area Authority (NCAA) and in the case of Loliondo, Police explained that they have been informed that no rallies should be held there.
READ MORE: It Is the Same Old Tundu Lissu As Ever
Nonetheless, Lissu went ahead with the rallies, emphasizing that "Ngorongoro is not a prison, and its residents have the same rights as other citizens".
Yesterday, September 9, 2023, Lissu was denied access to Ngorongoro as he was heading there to complete his schedule, in response, Lissu and other CHADEMA leaders, organized a sit-in, closing the road leading to Ngorongoro, the Police later dispersed the sit-in.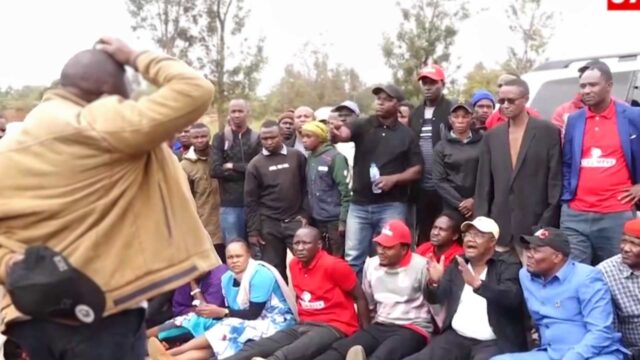 In his rallies, Lissu criticized the government's plans to relocate Ngorongoro residents, arguing that these plans violate the rights of the Ngorongoro residents.
Since last year, Tanzania has embarked on a plan to relocate over 100,000 people living in the Ngorongoro Conservation Area to Msomera, citing conservation efforts. The government maintains that the relocation is voluntary, less than 2 percent of the population has relocated.
The remaining residents have complained of violations of their rights to social services, a claim supported by Tanzania's leading human rights body, the Legal and Human Rights Centre. The Centre's report stated that since 2021, the government diverted funds from social services from Ngorongoro.
"Approximately 500 million for medical equipment were redirected from the Nainokanoka dispensary [in Ngorongoro] to Msomera. About Tshs. 80 million allocated for the construction of facilities and medical equipment purchases for the Osinoni dispensary were diverted," said the Executive Director of the Legal and Human Rights Centre, Dr. Anna Henga in their press release on September 8, 2023.
"Fund allocation for medical equipment in other dispensaries has ceased since 2022, and there has been no budget allocation for education services in Ngorongoro for two years," Dr Henga added.
READ MORE: UN Experts Warn of Escalating Violence Amidst Plans to 'Forcibly Evict Maasai' From Ngorongoro
The Secretary-General of CHADEMA said that they are yet to determine the whereabouts of the arrested leaders.
In a follow-up response, the Chairperson of CHADEMA, Freeman Mbowe, expressed deep concern about their safety and asserted that President Samia Suluhu's leadership appears to be returning to a tyrannical style with little regard for rights, freedom, or democracy.
The party has reported by afternoon, Police had ordered the closing of their office in Karatu and arrested several individuals including Joseph Mtui, John Malle, Fabiola Niima, Daniel Mnyampanda, Eliya Kibola, Valerian Qurama, and Samwel Welwel who reported about Lissu's arrest earlier in the morning.
The Chanzo Reporter