Dar es Salaam. CHADEMA Secretary-General Mr John Mnyika reported that the party's Council of Elders' chairperson Mr Hashim Issa Juma was on Monday transported from Zanzibar to Dar es Salaam to face unspecified charges, further worsening relations between the two institutions that are usually at loggerheads.
Mr Juma was arrested on Sunday, October 3, 2021, at his home in Zanzibar when plain-clothes police officers arrived at the place and arrested him. They neither told him where he was taken to or what his charges were, according to CHADEMA officials.
"Our advocates have followed up the matter until in the afternoon [of Monday, October 4, 2021, but] the Police Force has declined to inform them of [Mr Juma's] whereabouts [in Dar es Salaam] so that we can provide him the necessary legal services," Mr Mnyika said in a Twitter post.
Mr Mnyika added that the main opposition party in Tanzania had directed its advocates to prepare a charge sheet against the Police Force, probably on the alleged violations of the Police General Orders (PGO).
Dar es Salaam Special Zone Police Commander Jummane Muliro said in a statement on Tuesday, October 5, 2021, that the law enforcement agency was holding Mr Juma on sedition charges as well as "pitting people against their government."
Mr Juma's arrest followed his press conference in Zanzibar on October 1, 2021, where, among other things, he criticized President Samia Suluhu Hassan's statement that the New Constitution should wait first as she is currently fixing the economy.
He also commented on the terrorism case that CHADEMA national chairperson Mr Freeman Mbowe and three others are facing, reiterating the party's stance that the former Hai MP (CHADEMA) is not a terrorist, and demanded his immediate release. 
His arrest was preceded by an October 1st  letter from Party Registrar Francis Mutungi to CHADEMA, demanding the party to explain why legal measures should not be taken against Mr Juma for violating the Political Parties Act. According to the letter seen by The Chanzo, CHADEMA were supposed to submit their written explanations to the Registrar before October 7, 2021, at 03:30 PM. Mr Mutungi accused Mr Juma of "using disrespectful and undisciplined language" against President Samia, among other accusations.
But Mr Juma is not the only opposition politician who was arrested by the police in the last couple of days. On Saturday, October 1, 2021, for instance, police in Kinondoni, Dar es Salaam arrested dozens of CHADEMA's women who were out doing jogging exercises.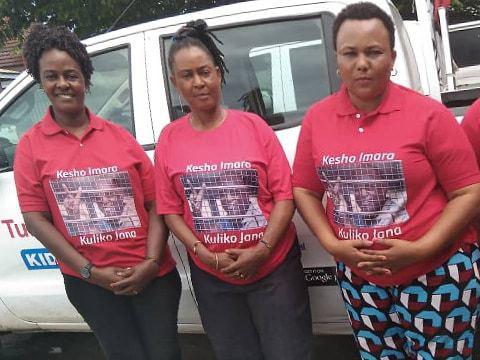 As of writing, all of those arrested whose number is unknown had not been released, with reports claiming that the women have organized a hunger strike aimed at forcing the police to either produce them in court or set them free.
Among those arrested alongside CHADEMA's women were a journalist with an online TV called Mgawe TV. The latest arrest of CHADEMA leaders, members and followers took place against the backdrop of the expected consultative meeting that Party Registrar Mr Francis Mutungi had called with leaders of Tanzania's political parties and the Police Force.
Scheduled for October 21, 2021, the meeting aims at discussing the growing police interference in parties' political activities. But almost all major opposition parties, including CHADEMA, ACT-Wazalendo, and Civic United Front (CUF), have boycotted the meeting for what they claim is the police's unwillingness to stop its "harassment" of opposition leaders and members nor is the police willing to talk about it.
This story was updated at [10:51pm] on October 5, 2021.
The Chanzo Reporter