Dar es Salaam. Good morning! The Chanzo is here with a rundown of major news stories reported in Tanzania on Thursday, May 5, 2022.
India's deputy national security advisor visits Tanzania for defence talks
India's deputy national security adviser Vikram Misri visited Tanzania this week to strengthen defence ties with one of India's key partners in Eastern Africa and the Indian Ocean Region (IOR) through measures including the export of defence products, according to a report by The Economic Times.
According to the report, Tanzania and India have decided to boost bilateral defence ties, including capacity building, meeting Tanzania's defence requirements from India, besides agreeing to enhance maritime security cooperation, said officials.
Security partnership was a key element of Misri's talking points with the top leadership of Tanzania, which has a long coastline along the Indian Ocean Region, where India has been a net security provider, the paper reported.
The Indian Ocean is the most important part of India's emerging maritime strategy, and in the quest to secure its interests in the strategic ocean, India aims to expand its security profile in East Africa. In the past few years, Mozambique has emerged as a key security partner for India in the region.
Misri's visit comes in the backdrop of efforts by China to build more overseas military bases in the Indian Ocean Region, according to The Economic Times.
India has traditionally enjoyed close political relations with Tanzania. From the 1960s to the 1980s, the political relationship involved shared commitments to anti-colonialism, non-alignment as well as South-South Cooperation and close cooperation in international fora.
Majaliwa urges calmness as the rise in fuel price bites
Prime Minister Kassim Majaliwa on Thursday urged Tanzanians to calm down as the government is facing criticism over the unprecedented rise of the fuel price in the country, leading to a worsening of the cost of living.
Fuel prices hit new highs in Tanzania on Wednesday with petrol selling at Sh3,148 and diesel at Sh3,258 per litre at the pump in Dar es Salaam, up from Sh2,86 and Sh2,692, respectively in April.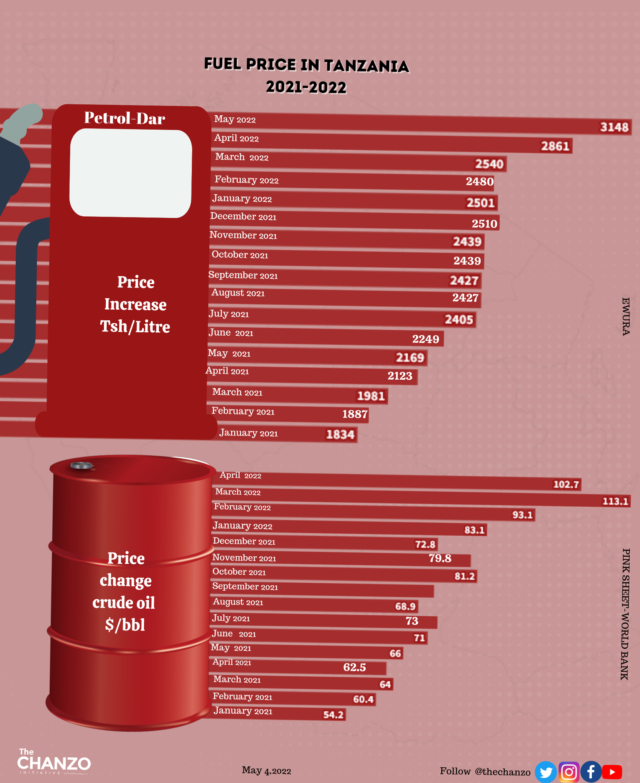 The government is associating the ongoing Ukrainian war with the rise in the price of fuel but lawmakers and other commenters have suggested that the government can take efforts to stabilize the price and save Tanzanians from misery.
Opposition ACT-Wazalendo, for example, wants the government to remove the Sh500 levy from each litter of fuel that is charged, a call that has earned support from many others who have commented on the issue so far.
The leader of the party Zitto Kabwe has also demanded the stopping of some of the government projects, including power and water projects so that the government can use the money to stabilize the price of fuel in the country.
But while meeting with officials tasked to evaluate the rise of fuel prices in the country in Dar es Salaam on Thursday, Mr Majaliwa said the Ministry of Energy was already looking for alternative ways, including importing fuel as well as reducing related deductions aimed at reducing fuel price.
The meeting was attended by the Minister of State in the Prime Minister's Office (Parliament, Policy and Coordination), George Simbachawene, Minister of Finance and Planning, Mwigulu Nchemba, Minister of Energy, January Makamba, Permanent Secretaries, as well as chief executives of Energy and Water Utilities Regulatory (EWURA), Tanzania Petroleum Development Corporation (TPDC) and the Petroleum Bulk Procurement Agency (PBPA).
Mr Majaliwa said the meeting was a result of President Samia Suluhu Hassan's directive in trying to find answers to the ongoing fuel crisis in the country.
"I urge citizens to be calm and trust the government," the premier said. "We are continuing to do everything we can to ensure that we reduce the cost of living."
Twaweza to present latest results of randomized control trial KiuFunza
Twaweza Executive Director Aidan Eyakuze said here today that the organisation is expected to present the results of its randomized control trial known as KiuFunza on May 7 in the capital Dodoma in a function that will be attended by lawmakers and officials from the ministries of education and local government.
The event will also see teachers who took part in the three-year trial receiving their bonus payments. Twaweza did the trial in collaboration with the Ministry of Education, Science and Technology and the President's Office – Regional Administration and Local Government.
Twaweza has been testing KiuFunza, an intervention in which bonus payments are made to teachers based on student learning, since 2013 in order to inform government policy. The trial has had three phases so far, according to Twaweza.
During this phase of 2019-2021, School Quality Assurance Officers were part of the KiuFunza implementation teams with the government providing various types of support, including design advice, data and access to implementation schools. The National Examination Council of Tanzania (NECTA) reviewed and provided advice on the student assessments.
"KiuFunza continues to improve learning in a cost-effective way," Mr Eyakuze told a press conference. "Between 2019 and 2021, Twaweza and the government worked together to begin to integrate key elements of the work into the existing education processes. We have solid evidence of what works to ensure that children learn. And Twaweza has secured new funding to expand the KiuFunza, in collaboration with the government, to some of the poorest performing schools."
According to Twaweza, the trial's early results have shown that KiuFunza generates improvements in pass rates equivalent to at least an extra third of a school year. So in one school year, a student in a KiuFunza school receives three months' worth of additional learning, compared to pupils in schools with no incentives, the organisation said.
The research further shows that low-performing pupils benefit most from the program.
In April 2022, Twaweza rewarded 547 Standard I, II, and III subject teachers and headteachers for their performance in 2021.
Nine schools – the best performing school overall in each region – also received infrastructure bonuses to spend on projects of their choice.
The value of the total bonus fund in each year is Sh204,000,000 paid to teachers and headteachers from 100 schools across six regions. The average per teacher bonus is 3.5 per cent of the average annual teacher salary.
Almost all teachers support the idea of performance pay, according to Twaweza. Teachers have very favourable (77 per cent) or somewhat favourable (19 per cent) views on the idea of awarding high performing teachers bonuses based on student learning.
Mr Eyakuze believes that all people have a role to play in ensuring that children learn and teachers are both motivated and accountable for delivering that learning.
"We are also seeing the ideas behind KiuFunza and some of our approaches being taken up by different education actors," he told journalists. "For example, the MP for Ubungo [Kitila Mkumbo of the ruling Chama cha Mapinduzi – CCM] offered incentives to mathematics teachers based on the KiuFunza approach. These are very welcome adaptations."
This is it for today and we hope you enjoyed our briefing. Please consider subscribing to our newsletter (see below) or following us on Twitter (here) as that is the best way to make sure you do not miss any of these briefings.  And in case you have any questions or comments, please consider dropping a word to our editors at editor@thechanzo.com.
The Chanzo Reporter