President Samia Suluhu Hassan has commenced her three days state visit to China at the invitation of the Asian nation's President Xi Jinping.  The visit comes days after Mr Jinping was confirmed as the country's leader for a third term.
When Xi Jinping came into power in 2012, his first state visit to Africa was in Tanzania in 2013, a visit that then-President Jakaya Mrisho Kikwete soon reciprocated.
This was the time when China-Tanzania relations were at their peak with Tanzania being at the forefront of the Belt and Road Initiative in East Africa, with projects like Bagamoyo port being some of the flagship/partnership projects.
But things took a sideway when President John Magufuli came to power and snatched the Standard Gauge Railway (SGR) project from Chinese companies. Mr Magufuli also halted the implementation of the Bagamoyo port project, saying: "Only a madman and a drunkard would agree to the terms of the project."
Nevertheless, China managed to maintain its influence through the cooperation of its Communist Party of China (CCP) and Tanzania's ruling party Chama cha Mapinduzi (CCM).
Its network of construction companies, which have managed to secure many contracts over the last couple of years, also helped to keep these relations alive.
Even at the dawn of the 2020 election as most countries condemned the situation during and after the election, China took the floor to congratulate Magufuli on his victory.
READ: Here's Why International Community Won't Sanction Tanzania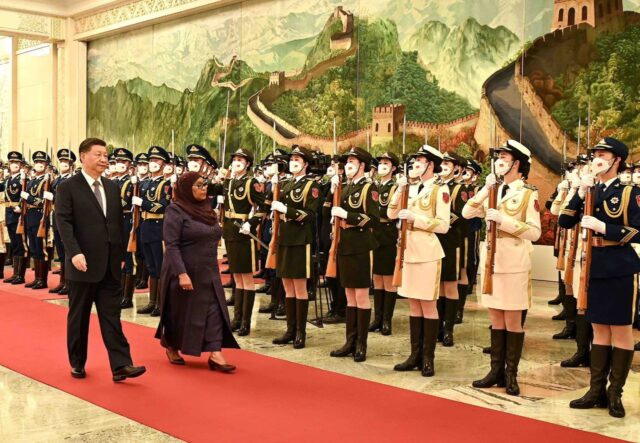 Diplomacy and the psychology of things
That President Samia cares about diplomacy cannot be denied.
She has so far managed to receive positive reception from some of the global institutions, including the IMF and World Bank and met with some foreign leaders from the West, including French President Emmanuel Macron and U.S. Vice President Kammala Haris.
However, the Tanzanian leader is yet to receive a state reception that would meet the expectations of her foreign policy brand.
Does it matter? I'd say it does. One of the items that are expected from Samia's visit to China is that Asia's economic powerhouse would take a moment to remind Tanzania about the warmth of its friendship and historical ties.
This would be manifested in the public and non-public reception. I expect China to put on a grand welcome for President Samia. By the look of things so far, this is exactly what is happening.
While diplomacy is about policies and country relations with other nations, at the end of the day personality matters and understanding what makes your counterpart tick is crucial.
I believe China has done its homework on this and as far as the psychology of things goes it's going to be positive.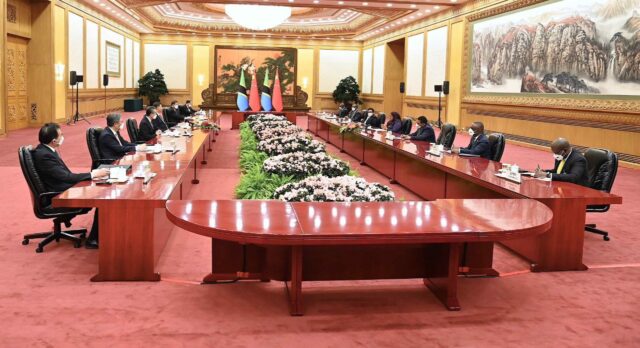 Expectations for Tanzania and China
President Samia has spent time solidifying some of the relations with the Middle Eastern nations and maintaining strong ties with Western leaders.
She, however, has not shown her full scope for China. I expect trade and technology, financing and bit of the sister's parties, CCM and CCP relations to be the main highlight of this engagement.
Tanzania imports the majority of its goods from China more than any other country. By 2021, 24.5 per cent of all Tanzania imports came from China, equivalent to $2.69 billion, followed by the U.A.E (12.48 per cent) and India (11.1 per cent).
In terms of export, in 2021, China was Tanzania's eighth export destination with an export worth $272 million, after U.A.E which was the first followed by India, South Africa, Switzerland, Kenya, Uganda and Rwanda.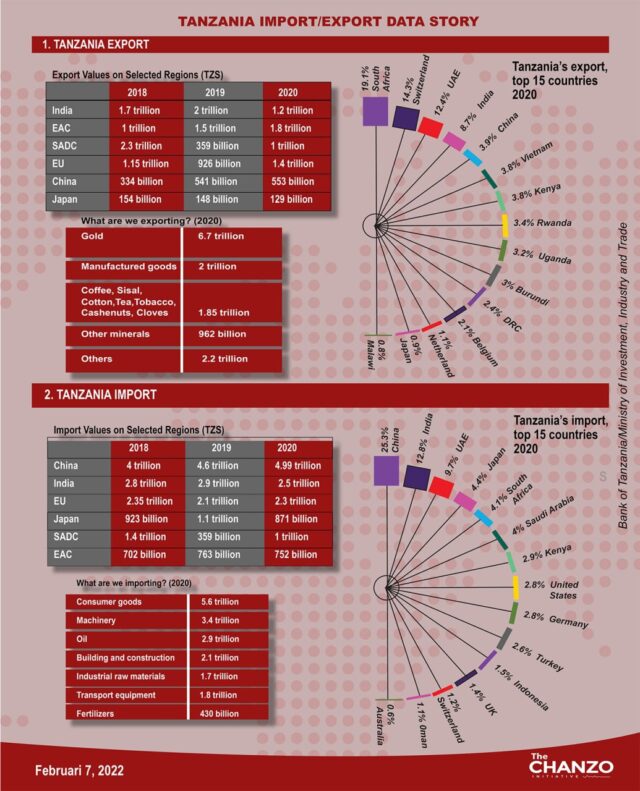 Tanzania would want to push for more export of its agricultural produce. With the ongoing struggle between world giants – the US, China and the European Union (EU) – it's expected that President Samia would explore pushing for gain in this area.
Exim China is the third lender with the most debt stock to Tanzania after the World Bank-IDA ($8.49 billion) and the AFDB-ADF ($2.4 billion), Exim China's loan to Tanzania stood at Sh3.9 trillion ($1.7 billion).
READ MORE: Tanzania's External Debt Profile
On this China has played some of its cards, proving its all-weathered friendship. At the height of the COVID-19 crisis, China suspended debt repayment of about $99.5 million.
It is anticipated there would be some conversation here, with the Tanzania government reaching out looking for finances but also China's BRI ambition. There might be the possibility for engagement in infrastructure finances too.
The elephant in the room remains the Tanzania Bagamoyo port which had a frustrating turnout for China but was also part of Xi Jinping's BRI flagship projects.
READ: Bagamoyo Port Project: A timeline of key events
While a few competitors have shown interest, including the French, U.A.E companies and Americans in supporting the project, its prospects have been unclear for months.
The only thing that is clear is that President Samia would like the project to move. Noticing that the project started with the grand ambition of Xi Jinping's BRI, there is a high chance the train set in 2013 will go back into motion with the Chinese companies returning.
READ: Samia's Bagamoyo Port Strategy: Political Masterstroke or Sign of Desperation?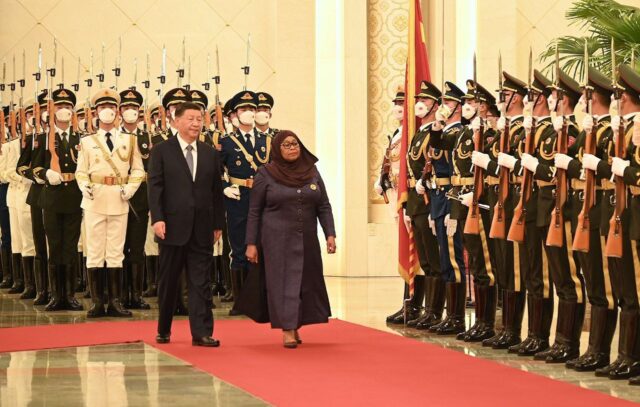 Revitalized relations
Tanzania's Ambassador to China has described Samia's visit to China as "a symbolic visit," referring to Xi Jinping's visit in 2013.
While it's unclear if Xi Jinping would move with the same vigour as when he got into office in 2012, what is clear is that the level of engagement and relations after Samia's visit to China will be different.
Engagement would now be built around the personalities of these two states' leaders, but understanding China's usual effort in winning African leaders and their understanding of Tanzania's context, there is a possibility that the visit will boost their influence further in the country.
For Samia, it would be another opportunity to cement her government's foreign policy outlook.
Generally, it is just fair to conclude that the visit would look to revitalize Tanzania-China relations and bring them back to their 2013's height although with an understanding of the current global context.
Tony Alfred K is analyst, writer and editor working with The Chanzo. He can be reached at tony@thechanzo.com and on Twitter at @tonyalfredk. Do you want to publish in this space? Contact our editor at editor@thechanzo.com.