Zanzibar. Tension is high here between married Zanzibari women and single female hotel workers from Tanzania Mainland as the former accuse the latter of stealing their husbands.
These accusations are widespread across this semi-autonomous archipelago and form the basis of the plight that female hotel workers from the Mainland face in Zanzibar, taking a heavy toll not only on their welfare but also safety.
The accusations came to the fore recently after one female hotel worker from the Mainland posted a video on TikTok where she addressed the accusations but was subsequently arrested and charged with defamation.
Perhaps nowhere is the tension more prevalent than in Nungwi, a major beach holiday destination located at the northern end of Unguja, one of two main islands forming the Zanzibar archipelago.
A tourist hotspot, Nungwi receives a bigger share of Mainlanders coming to Zanzibar in search of work in the isle's hospitality industry. Among them are women, with varying expertise, from various parts of Tanzania Mainland.
They include Tina Baran, a 20-year-old ICT expert from Manyara, north of Tanzania, who came to Nungwi seven months ago to join her boyfriend who has been here for the last two years. They both work as hotel workers.
I travelled two and a half hours from the city centre to come to meet Tina and ask her if she has ever come face to face with these accusations of being in the business of stealing husbands from Zanzibari women.
No room for the unmarried
"It took us two months before we were finally able to rent a house," the tall and light-complexioned woman who speaks hesitatingly tells The Chanzo during an interview.
"Everywhere we used to go, owners demanded us to avail to them a marriage certificate as a condition for renting. We aren't married," she explains. "It was the most frustrating thing I've ever experienced."
She isn't the only woman from Mainland who struggled to find a house to rent in Zanzibar.
Maryam Ali is a 25-year-old hotel worker from Tanga who told The Chanzo that since she arrived in Nungwi earlier this year she has lived in four different houses.
"Women here fear that I'll steal their husbands from them and that's why they decline to rent a room to me," says Maryam. "But that is not what brought me here. How I wish they could just know that."
While men are the owners of the houses, they don't have the final say over who should be rented a room there.
When a man decides to rent a room to a woman from the Mainland, he receives stiff opposition from his wife who in most cases has the backing of the children. Rarely a man emerges a winner in such a fight.
The problem has reached such a stage that it no longer just affects women from Mainland who come to Zanzibar to look for greener pastures.
Even people working as middlemen, commonly known as dalalis, have started feeling the pinch.
Speaking in a tone that expresses rage Ali Kassim, a dalali from Kariakoo, in urban Unguja, told The Chanzo during an interview that the behaviour makes Zanzibar an unwelcoming place to foreigners.
"It is difficult for me to describe what is happening in words," the 25-year-old Kassim says.
"You find someone who is willing and able to pay a whole year's rent but the family declines to take her in just because she's good-looking," he says in dismay. "It is something that really troubles me."
Not new phenomenon
Back in Nungwi, local government officials claim that they have never received complaints from female hotel workers from Mainland on the difficulty they go through in getting rooms to rent.
But with regard to complaints from married Zanzibari women that their husbands are being stolen? They are frequently filed at local government offices.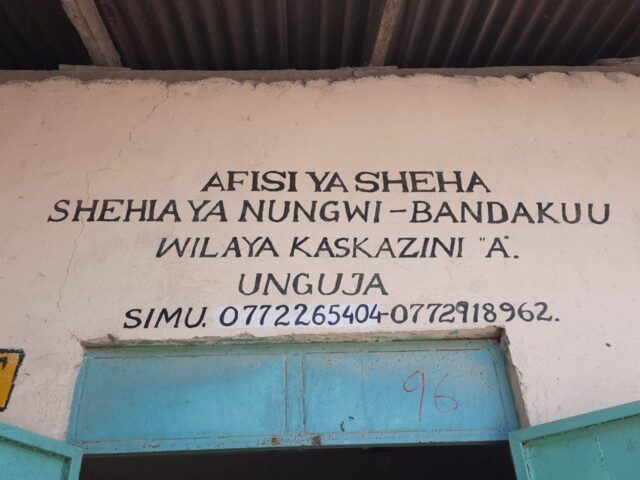 However, Haji Khamis Haji, a village leader (locally known as sheha) with Bandakuu village in Nungwi thinks that the complaints are not new, noting that they are as old as Zanzibar's own tourism history.
"These complaints are there, yes, but they are not new," Mr Haji opened up to The Chanzo.
"In fact, in the 1990s, women here [in Nungwi] even organised marches demanding that the government should protect their husbands from being stolen by [female] hotel workers [from Mainland]," he remembered.
But he admits that the problem is bigger now than it used to be in the past.
"The town [Nungwi] has increasingly become smaller," he explains. "With many people coming in and settling, it has exacerbated the tension that already existed between locals and foreigners."
It is not clear if modern-day married Zanzibari women will organise marches to pressure the government help to protect their husbands.
But the thought actually is not far from the minds of the women who are convinced that their husbands have been stolen from them.
Khanifa Mussa* is one such woman who has frequented her local government offices, complaining that her husband has abandoned her to go live with a hotel worker.
She has had two divorces from her husband over the matter and she is afraid that if changes do not come soon then the third one is not very far.
The mother of three Khanifa says her husband, who is a driver-guide, only spends Saturdays at home, spending the remaining six days of the week with who she suspects is a hotel worker from Mbeya.
'They steal our husbands'
"They come here and steal our husbands," Khanifa, 26, tells The Chanzo during an interview at her home.
"My family and I do not know if there is such a thing called a father or a husband," she speaks with bitterness. "If you go to look out for him, you'll find him with this girl. I've complained everywhere but nothing has happened."
Khanifa is just one woman among many others that The Chanzo spoke with about the issue and who subscribe to her sentiments.
In fact, these sentiments are so prevalent that if you ask any married Zanzibari man what is his wife's worst fear he will tell you that is for him to go out with a woman from Mainland!
But what do Zanzibari men and husbands think about the issue? The Chanzo asked Shaabani Abidu, a 56-year-old father of six who acknowledged the existence of the issue, something he describes as "normal."
"These women [from Mainland] are beautiful and they are well-built that it requires extra effort to avoid falling for them," Mr Abidu explains, shyly.
"Here in Nungwi, a big number of Zanzibari men are in relations with these women," he admits. "Some of these men are single but some of them are married."
*Not her real name.
Najjat Omar is The Chanzo's journalist based in Zanzibar. She is available at najomar@live.com. 
Najjat Omar