Dar es Salaam. Good morning! The Chanzo is here with a rundown of major news stories reported in Tanzania on Tuesday, November 1, 2022.
Tanzania can't afford continued use of dirty energy. Here's why
President Samia Suluhu Hassan on Tuesday agreed with the assessment by experts that Tanzania can continue using dirty cooking energy at its own peril, an appreciation that led her to launch a task force that would help the East African nation to transit to clean cooking energy within the coming ten years.
Experts describe dirty energy as energies that emit toxic substances and smoke, such as firewood and charcoal. Clean energy, on the other hand, refers to such categories of energy as kerosene, Liquefied Petroleum Gas (LPG) and electricity.
The Head of State was a chief guest at a two-day national convention on clean cooking energy, the first ever to be organised in Tanzania, which took place at the Mwalimu Nyerere International Convention Centre (JNICC), in Dar es Salaam.
Taking place under the auspices of the Ministry of Energy, the conference commenced today, November 1, 2022, and will conclude on Wednesday.
"We can't continue to shut our eyes on the negative consequences resulting from our continued reliance on dirty cooking energy," President Samia declared. "There must be interventions aimed to reverse the course. The solution is a long-term one but actions must be taken now."
A mere five per cent of the entire population of Tanzania is considered to have access to clean cooking fuels and technologies, with more than 96 per cent of the population – 61.7 million – relying on biomass, mostly firewood and charcoal as their primary fuel for cooking.
Full story here.
Samia blames Dar water woes on 'irresponsible' human activities
President Samia Suluhu Hassan on Tuesday said that human activities are to blame for the drying up of the Ruvu River, Dar es Salaam's main source of water, leading to water rationing that currently affects the city's 5.3 million residents.
Officiating a two-day national convention on clean cooking energy in the city, the Head of State pointed an accusing finger at deforestation in the Pwani region where the river is located as well as irresponsible construction of infrastructure to supply water to "foreign-owned" individuals, calling them the culprits of the ongoing situation.
"These people have put in place barriers that prevent water from flowing freely," Samia complained. "You find that heavy-duty machines have been placed to pump water to the farms, foreign-owned farms, not farms of people living in the area."
"Others have built ponds, which they use for aquaculture," she added.
Samia directed the regional commissioners of Dar es Salaam and Pwani as well as the Dar es Salaam Water and Sanitation Authority (DAWASA) to carry out a joint operation to get rid of these barriers, assured that that would keep the water flowing to Dar es Salaam.
Dar es Salaam, Tanzania's commercial capital, is on its fifth day of water rationing since DAWASA announced it on October 27, 2022, citing a drop in water levels at Ruvu River, a situation the authority associated with drought.
Full story here.
Swiss ambassador tours The Chanzo, stresses importance of free press
Ambassador of Switzerland to Tanzania Didier Chassot on Tuesday visited The Chanzo's office in Msasani in the city as part of the envoy's media tour aimed at providing him with an opportunity to learn more about the sector in the country.
Mr Chassot was accompanied by Ms Sheila Suleiman Ally, responsible for Communication and Culture at the embassy as well as Mr Eric Kalunga, Programme Officer (Governance).
Switzerland is currently implementing its Swiss Cooperation Programme Tanzania (2021 – 2025), which aims at strengthening state institutions, protecting and promoting civic space, and improving the health and livelihoods of youth.
In the area of media, Switzerland's focus is centred on three main areas. The first area concerns itself with the quality of content that the media produces, the financial viability of the news media organisations and innovation in media.
The second area is around the safety of journalists by providing legal defence and, where necessary, relocation. The third issue is gender, that is, using the media to promote gender equality in Tanzania.
Speaking to The Chanzo's team, Mr Chassot congratulated the team for the work it has been doing around the issue of public interest journalism, calling the work "crucial" in promoting freedom of the press in Tanzania.
"It is one of our missions to strengthen civic space in Tanzania as well as promote press freedom in the country," said Mr Chassot who arrived in the country in September 2020.
"Press freedom is important and has to be protected," he added. "Some of our programs in Tanzania aim at achieving just that."
Full story here.
TPDF deploys troops to Kilimanjaro Mountain as blaze burns for 12 days
The Chief of Defence Forces of the Tanzania People's Defence Forces (TPDF) General Jacob John Mkunda said in a statement on Tuesday that troops will be deployed to Kilimanjaro Mountain to put off a fire that has been burning Africa's highest peak for 12 days.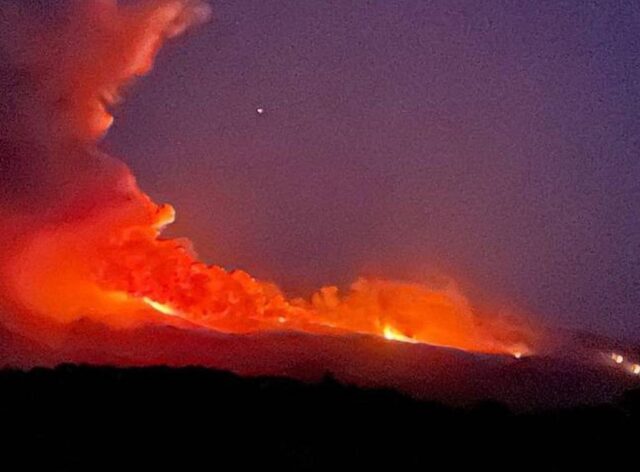 Firefighters in the Kilimanjaro region are trying to put off a fire that broke out on the slopes of Mount Kilimanjaro, with police and local people helping firefighters tackle the blaze.
The fire started on Friday evening and was spread by strong winds during the night, according to authorities in the region.
"Officers and men of TPDF have already arrived in Siha and Mwika areas in Kilimanjaro Region ready to start the fire fighting operation," said General Mkunda in a statement.
He added that TPDF will fully cooperate with other Defense and Security Agencies, various stakeholders and citizens to ensure that the fire is controlled early before it causes serious damage to the park.
TPDF's statement comes almost a week after the Permanent Secretary in the  Ministry of Natural Resources and Tourism Prof Eliamani Sedoyeka said on October 24, 2022, that the government has sought TPDF's assistance to put off the blaze.
Officials have not yet established how the fire started, but it comes two years after a blaze raged for a week in October 2020 across 95 sq km (37 sq miles).
Kenya to assist its national stranded in Tanzania
Kenya's Foreign Affairs Cabinet Secretary Alfred Mutua said on Tuesday that Fredrick Omondi, a Kenyan who sought help in Tanzania, is being assisted.
Omondi, who relocated to Tanzania in 2016 after securing a job, accused police in Tanzania of harassment. Mr Omondi arrived in Tanzania in 2016 following an invitation by the late businessman and sports leader Zacharia Hans Poppe.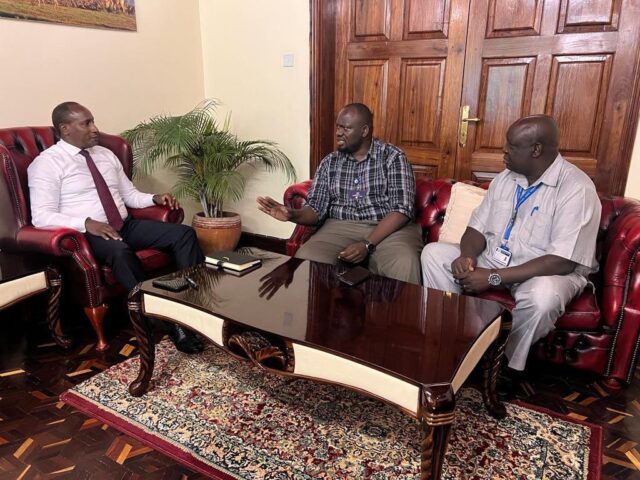 Mr Hans Poppe tasked Omondi with managing a new hotel the former was developing, according to media reports. Unfortunately, the boss died in 2021 due to COVID-19 and Omondi was then allegedly accused by his employer's son of stealing from his father.
​​Omondi did a video clip that went viral on social media after he was recorded pleading for help, prompting Kenyan authorities to come forward and offer help.
"Kenyan Mr Frederick Omondi is being assisted by the Kenyan High Commission in Dar-es-Salaam," Kenya's The Star newspaper quoted Mr Mutua as saying. "We will give him as much support as legally possible. This afternoon he was welcomed by Kenyan Ambassador to Tanzania Amb. Isaac Njenga and Mission staff."
Earlier on Tuesday, Mutua had directed the officials to assist Omondi.
"I have noted the online clip of Kenyan Frederick Omondi, who is being held in Tanzania," Mutua said in a Twitter post. "I directed our Tanzanian team to find out the whole story and to assist him."
This is it for today and we hope you enjoyed our briefing. Please consider subscribing to our newsletter (see below) or following us on Twitter (here) or joining us on Telegram (here). And in case you have any questions or comments, please consider dropping a word to our editors at editor@thechanzo.com.
The Chanzo Reporter